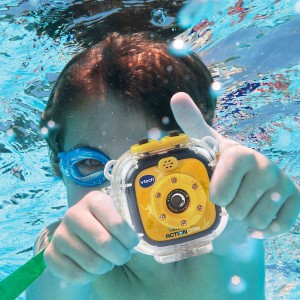 How much time does your child spend watching videos on the computer that are made by other kids?
In many cases, the videos that kids make for other kids to watch are made on different action cameras.
Action cams for kids are everywhere, and now, kids have durable, affordable options of their very own.  Does Vtech Action Cam continue to lead the pack in electronics for kids?  Continue reading and decide for yourself!
What Is An Action Cam?
Action cameras are small wearable and/or mountable cameras that capture videos while the user does just about anything.
These cameras are made to be waterproof and virtually indestructible, making them safe for use on bikes, ATVs, motorcycles, while swimming, rafting or just running around on the playground.
In many cases, the pixel rating on action cameras is low, so the quality of the video is lacking, but for most kids, professional quality isn't needed.
How Are Action Cameras Used?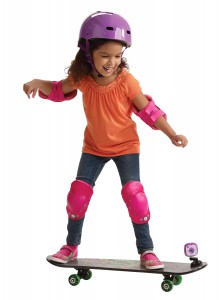 The kids versions of the action cameras are designed pretty much the same way as the adult GoPro cameras are.
The  camera can be mounted using one of several options – mounted to the handlebars of a bike, strapped to a helmet, worn on the chest using a harness of sorts or held by hand.
Many of these cameras come with a removable waterproof case. When the camera is locked tightly in the waterproof case, it can be used anywhere that water might be an issue.
It is safe to be fully submerged, worn while zipping down a waterside or out in the rain while splashing in muddy puddles.
Vtech Kidizoom Action Cam Review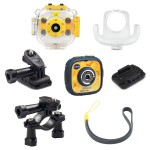 Vtech, a leader in kids toys, has once again created one of the most popular kids' action cams on the market today.  It is named the Vtech Action Cam. These cams come in two colors – yellow and purple.
Vtech has created an all in one kit that contains everything needed little videographers to record all their adventures.
Included in the kit:
-the camera
-usb computer connect and charge cable
-wrist strap to secure the camera while active
-double-sided tape to mount the camera to flat surfaces
-flat surface mounting removable clip
-bike mount for mounting it on handlebars
-mountable waterproof case
Features
This small, lightweight camera can be taken anywhere to video anything. The rechargeable battery holds up for around 2 and a half hours before it needs a recharge.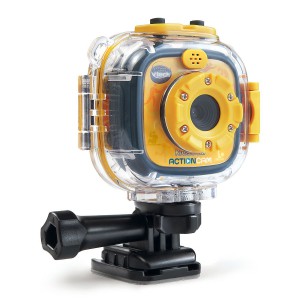 The 1.4 inch LCD display gives your child a great view of what the camera is capturing. On the screen, your child can use some of the fun effects built into the camera to add bubbles to the background, give their friends funny faces and so much more.
Memory isn't an issue with this handy little camera.
Since it takes a microSD card, you can purchase several cards for your kids to have handy.
Once the videos are captures, the camera can be connected to the computer and the videos downloaded to the computer and then uploaded to your kids' favorite video sharing website.
Vtech Kidizoom Action Cam Case – New
As of now, the only additional accessory available and needed for the action cams is a carrying case for the camera.
Vtech has filled the need with the Kidzoom Action Cam Case.  This case stores the camera, the waterproof case, the mounting clip and the USB cable in one easy to close, lightweight case.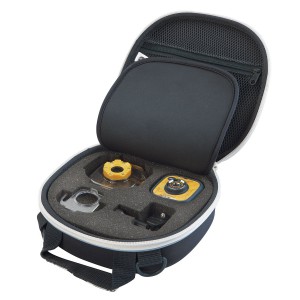 Rated #1 New Release Prescheool Video and DVD Players –  4.0 Out of 5 Stars
Customer Ratings and Reviews
This camera has excellent ratings on Amazon.  It has #1  best seller in the preschool camera toys and rated 4.3 out of 5 stars.
– What a great camera for kids
– My grandson loved this camera
– Kid friendly
Read More Customer Reviews For The Vtech Kidizoom Action Cam
Our Verdict
Your kids are sure to have hours of fun making, editing and viewing the videos they make with their Vtech Action Cam.