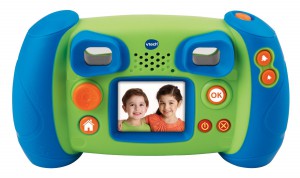 The VTech Kidizoom Camera Connect is VTech's attempt at creating a fun, durable camera for children.
It's a great introductory camera for a child over the age of three.
It gives them a chance to take and edit pictures as well as videos. It has 4x zoom and an easy-to-read LCD screen.
The following VTech Kidizoom camera connect review will show how the VTech tends to all of these problems and surpasses expectations.
Features of the Vtech Kidizoom
---
There are a few different cameras on the market designed for children, but they all have their downfalls. Some aren't durable enough and break down after only a few weeks of use. Others make it impossible to share or edit the captured media. Finally, those with the features you like tend to be priced outrageously.
It's very durable and can take quite a beating. The plastic casing is strong and padded with rubber to ensure nothing is damaged while playing outside. On the inside, there are plenty of great features, such as mini-games to play on the LCD, 4x digital zoom, and voice editing.
The size and shape of the camera make it easy to hold, even for kids with small hands. It's also very lightweight despite its rugged nature. There are two separate viewfinders that work together like a pair of binoculars. No need to view by shutting a single eye at a time, which can be surprisingly difficult for young children.
It features a nice 1.3 megapixel sensor. This might not be enough for the serious photographer, but it's more than enough for a kid to take some quality photos. The pictures come out nice enough to be incorporated into the three games included in the device. You can see the images on the LCD screen on the back.
The software inside makes the device really shines. It has a lot going on and more than enough to keep any kid entertained. It can record videos and take pictures with borders and then edit that same media on the 1.8" LCD screen.
There is a built-in voice recorder that can be used independently of the video recorder and there are 5 voice changing effects that are a lot of fun for kids to play with. The 3 games included are more than just fun, they help build logic skills and improve creativity.
Finally, there's the matter of batteries. The VTech Kidizoom comes loaded with old-school carbon zinc batteries. These should be replaced with something a little more modern and lasting. Once you've replaced the batteries you'll find it has a decent lifespan. You can even use it with rechargeable AA NiMH batteries and save money in the long run.
Customer Reviews and Ratings
---
This camera has excellent ratings on Amazon.  It has #1  best seller in the preschool camera toys and rated 4.2 out of 5 stars (953 customer ratings as of this writing)
– Perfect for the beginning photographer
– Great Children's camera
– Excellent gift idea
Real reviews like the ones above indicate that this camera delivers for the preschool crowd!
Specifications
---
| Product Details | Description |
| --- | --- |
| Popular Colors | Blue and Pink |
| Age Recommendations | 3 to 8 years old |
| Product Dimensions | 6.2 x 3.2 x 1.9 inches ; 13.6 ounces |
| Weight | 13.6 ounces |
| Batteries | 4 AA are required and included |
Our Verdict
The VTech Kidizoom is a great camera for its price range and purpose. You won't be shooting beautiful shots of the moon anytime soon, but you will be having fun with your kids. Newer models will likely improve on some of the minor setbacks of this release.
This VTech Kidizoom Camera Connect Review gives a thumbs up!