These days everyone has a computer, yet you probably feel like your child is too young for one.  Maybe your little one wants to be like the masses and take advantage of the Internet.  There are educational website for kids specializing in ages and up.   A kids leapfrog tablet is a possible solution.
This is a great way to give them what they want without worrying about their safety.  Learning tablets are not just computers.  They are education learning toys and like your cell phone or tablet, they can include cameras as a bonus as well!
Features Of The LeapFrog Leappad3 Learning Tablet
---
– This tablet is Wi-Fi enabled, so they can hop online anywhere that offers a connection.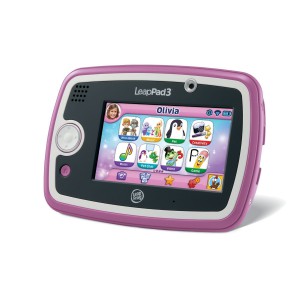 – There is an extensive learning library filled with age appropriate content, like videos, e-books games and apps (you have to pay extra for these).
– All of the content that is accessible from the tablet has already been prescreened.
– This device is fitted with two cameras and one video recorder.
All of the other features that are available include:
– 10 FREE apps
– 4GB of memory
– Parental controls
– A rechargeable lithium ion battery (included)
Ease Of Use
---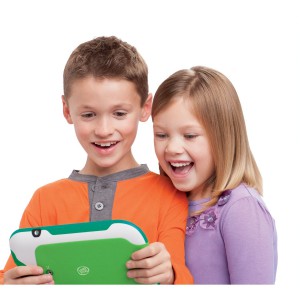 This product is very intuitive, particularly since it was made for children ages 3-9.
While a child may be smarter than average, it is sometimes difficult for them to understand new things.
The simplicity of this device certainly makes it possible.
The learning experience on this tablet is personalized, so you can adjust the settings for some of the games to make them more age appropriate.
Even if you select a level that is challenging, there is a hint button that can help children work things out with minimal assistance.
Overall Design
---
It is very attractive and it is comparable in size to many traditional tablets that are on the market. The corners are rounded so there are no sharp points for smaller children to deal with.
The screen of this tablet is shatter-free, which is impressive considering how active and rough children can be. Even if they drop it numerous times when they are out and about, the screen will remain intact.
Specifications
---
Color Availability:  Leapfrog Leappad Kids Learning Tablet Green or Pink
Recommended Age: 3-9 years
Weight: 1.5 pounds
Product Dimensions: 1 x 7.5 x 5.1 inches
Consumer Opinions
---
This product has countless positive ratings on Amazon. The current rating is 4.0 out of a possible 5 stars, and this is based on 518 ratings.
Here is a small sampling of what they had to say:
– Great Product! So much better than previous versions.
– The touch screen is sensitive, which is a good thing.
– It has already survived quite a few falls.
– My daughter loves this and uses it constantly.
Our Verdict
---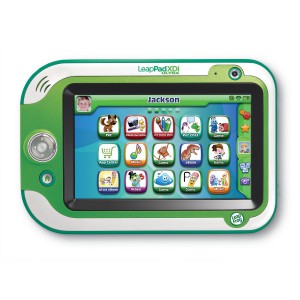 This is the third in a series of products that children know and love. It is far speedier and more intuitive than previous versions.
The fact that you are not able to access sites that are not preapproved means that you can leave your child alone and not worry about them getting into trouble.
The price is right, the kids can use it to access thousands of apps and it can withstand quite a few falls to the floor. There isn't a better product available that has this combination of features.