Introducing The Kidizoom Smartwatch DX From VTech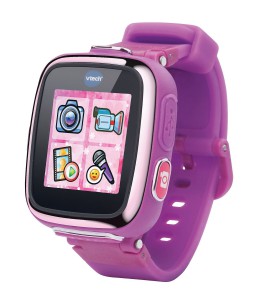 The smart watch craze has started. It's spread like wildfire through the adults and now it's moving to the children as well.
Kids who love taking pictures or who just want a smart watch like mommy or daddy will love the Vtech Kidizoom smartwatch.
There are enough features to keep any kid entertained and it's more durable than most adult smartwatches. So what exactly does the kidizoom smartwatch have to offer?
Features of the Vtech Kidizoom SmartWatch DX
---
There are a lot of fun features packed into a fairly small watch. If you're already familiar with the Kidizoom line of digital cameras for children, then you're probably familiar with most of the features included in the smartwatch. They found a way to put all of the same great features into the watch and then a little more on top of that.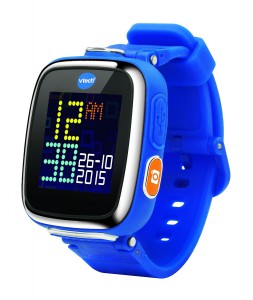 It has a a 1.4 inch touchscreen with 128×128 pixel resolution. That may not be the most beautiful picture resolution, but it's more than enough for a smartwatch meant for kids. Photos themselves are captured in 640×480 resolution and video capture supports different resolution options.
There is a separate voice recorder in addition to the camera and voice recorder. Voices can be recorded and changed using the built-in voice changing features. I found this to be the most entertaining parts of the watch and I'm an adult.
There are funny camera and video effects that the kids might have more fun playing with. Spice up photos and videos with built-in photo effects, frames and filters.
There are also 3 motion sensor action and eight different learning games installed that are a lot of fun as well. It can also be connected to the Vtech Learning Lodge center if you have other Vtech devices.
And finally there are the more standard features you should expect from any smart match
More Memory – holds 1600 pictures
3D Clock Face Designs
Alarm Clock
Calculator
Calendar
Splash and Sweat proof
Pedometer
What About The Design?
---
The watch is actually very well designed and durable.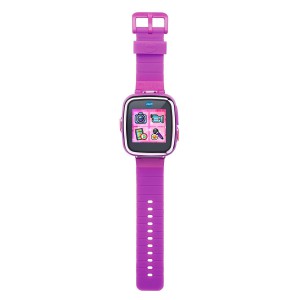 It's meant for children, so the designers made sure it was rugged enough to survive falls, throws, and unwanted splashes.
It's not completely waterproof so don't dip it in the pool, but it can survive splashes.
The battery is rechargeable and will require charging before your first use. The battery life isn't exactly amazing, but it lasts a lot longer if the kid remembers to turn it off when they aren't using it.
A USB charging cable is included. The same cable can be used for connecting to a PC to upload images and videos.
Very Easy To Use
---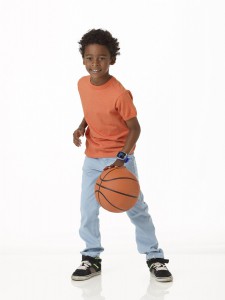 You might think a smartwatch could be difficult for a kid to learn and use.
That's not at all the case with the Vtech smartwatch. The buttons are large and clear.
Most kids can easily decipher the interface of the watch, especially if they have experience with touchscreen technology.
If they can play with your phone, then they can definitely understand the watch.
Specifications
---
| Product Details | Description |
| --- | --- |
| Popular Colors | Blue and Violet |
| Age Recommendations | 4 to 9 years old |
| Product Dimensions | 0.6 x 8.8 x 1.8 inches ; 15.2 ounces |
| Weight | 15.2 ounces |
| Batteries | 1 Lithium ion batteries required and included |
Customer Reviews and Ratings
---
This product has excellent ratings on Amazon.  As of this writing, 4.6 out of 5 stars with 24 reviewers.
– Super Cool Kiddies Watch
– Loaded with features
– Impressive for a kids toy
Rating – 4.6 out of 5 stars
For The Best Vtech Kidizoom SmartWatch Prices And More Real Reviews
Our Verdict
Overall, it's one of the best smartwatches on the market for kids. It's affordable, entertaining, and durable. What more could you want in a birthday or Christmas gift?