The Kindle Fire Kids Edition is considered the Fire Tablet of the latest generation. The product is due to be released within the next 10-days. The Fire Kids Edition has been creating quite a buzz in the market even before the pre-orders were accepted.
It is one of the best gifts you can give your loving kid.  The product comes with parental control features, and is designed with your loving kid in mind.
This is why it comes with a 2-year worry-free guarantee, which promises to replace the Kindle without any questions asked.
The guarantee covers anything that happens to the Fire tablet. As you are aware, accidents can easily happen while your kid is using the tablet.
It can fall down or break at any time. Whether it breaks by falling down or there is any electrical/mechanical breakdown, the company will replace the tool with no questions asked. This is one of the salient features of the new Kindle Fire for kids.
Features
---
The kids-proof case is designed to protect the tablet from drops, bumps and typical mayhem caused by kids at play. The case will not add additional weight on the little hands of your kid. It is lightweight and durable.
 The full-featured Fire tablet comes with a 7-inch 1024 x 600 IPS display. It is perfect for watching movies like Frozen.
 The fast quad-core processor ensures smooth videos and games with quick app launch times.
 The tablet is black in color with a pink or blue kid-proof case to select from.
 It has an 8GB internal storage space. You can use up to 128GB of expandable storage space with a microSD. You need not worry anymore about storing your child's photos, games, movies and apps because of this.
Also, you can enjoy free unlimited cloud-storage for all photos and Amazon content taken with the Fire tablet.
 The tablet comes with a 2-MP rear High Definition camera for 720p videos and high-resolution photos. It also consists of a front camera, which is perfect for video calls.
 The device offers unlimited free access to 10,000 odd kid's friendly books, TV shows, educational apps, games and movies.
It also includes 1-year of Amazon FreeTime Unlimited. This will let your kid explore their creative side with some of the best fun editing tools such as adding drawings and stickers on their pictures
They are easily auto-saved to Cloud. Parents are able to easily print them or choose to share with friends and family, if they wish to. Amazon FreeTime blocks your kid from posting photos to social media sites.
Your kid is quite safe due to this.
Design And Ease Of Use
---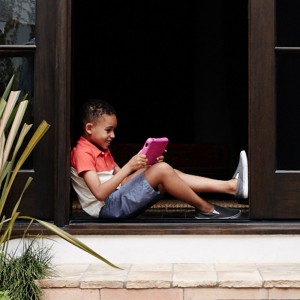 The tablet is elegantly designed with a kid-proof case that fits perfectly in the little hands of your kid.
It will protect the tablet while not adding additional weight on the hands of your kid. The case is made of lightweight and durable material. The case is available in blue and pink for you to choose from.
The background color and fonts change to a kid-friendly design.
The home screen carousel shows the recently viewed titles where the kids are able to navigate visually to the content that is based on topics or characters.
Ease of use is a salient feature of this tablet.
Specifications 
---
| Product Details | Description |
| --- | --- |
| Popular Colors | Blue and Pink |
| Age Recommendations | 3 and up |
| Product Dimensions | 8.6 x 5.4 x 1.0 inches |
| Weight | 14.3 ounces |
| Battery Life | Up to seven-hours of surfing, reading, listening to music and watching video |
| Charge Time | Fully charges in about 6 hours of time, using the micro-USB power adapter |
Customer Reviews And Ratings
---
There are no customer reviews since the product will be released within the next 10-days. But, users who own the earlier versions of the tablet expect the Kindle Fire Kids Edition to be a much improved version with so many additional features.  WATCH Video for more info.  Click on picture.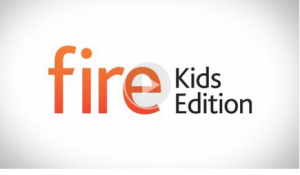 Our Verdict
All in all, you can expect to own one of the best kids tablets with the release of the Kindle Fire Kids Edition. This is expected to be one of the Christmas gifts for 2015.